car company
ASTON MARTIN
aston martin history
It all started in 1913 when two cycling buddies, over a couple pints at the end of a long day on the hill climbs (ok, I'm embellishing the back story a bit here) decided to go into business together. The two men where Lionel Martin and Robert Bamford. They started out selling Singer automobiles. They were both handy mechanics and Lionel was an accomplished driver. He was often seen racing at the near by Aston Hill Hillclimb races near Aston Clinton. In 1914 the two decided to start to build there own vehicles and Aston Martin was born.
The name came from the combination of "Aston" from the hillclimb races and Lionel Martin's last name. I could never find out how or why Bamford's name was not involved, I envision a nagging wife that didn't want to have the tax collector come pocking around the household finances, but I somehow think that Martin-Bamford's would have had the legacy that Aston Martin now enjoys.
As with all great endeavors there are successes and challenges. What makes Aston Martin such a great marquee is that even though the challenges always seemed to outweigh the successes the product was always notable. As such were the early years. Soon after the first Aston Martin rolled out of the garage he first world was started and the company shuttered up for the duration. Once the war was over, and with fresh cash from Count Louis Zborowski, the company started to roll out vehicles that competed in races such as the French Grand Prix and Brooklands.
The early racing successes didn't result in a beneficial partnership for the two founders and Mr. Bamford sold his interest to Mr. Martin in 1922. Money was tight and cash flow was kept positive by infusions by the Count. Unfortunately, in 1924 the Count died in a racing accident and the future of Aston Martin became uncertain. In comes John Benson, later to be named Lord Charnwood (I'm American so I have no idea what it takes to go from just John to Lord Charnwood. However, I imagine it to be quit painful). he Lord had the cash and the desire to continue Aston's reputation in the racing world. He, however, didn't care for Mr. Martin and in 1925 Lionel hit left the company.
Lord Charnwood didn't last for long. By 1926 he had sold Aston Martin Motors to Renwick & Bertelli, a recently formed engineering company, for 4000 pounds. It was at this time the company moved to Victoria Road, Feltham. These new owners where also not to last. About a year later Renwick and Bertelli broke up and had to seek outside investors to keep the concern running. By 1936 the Bertelli's had left and the largest investors, the Sutherland family, took control. Now things were to get bad - like I said, what makes Aston Martin so great is the blood and sweat it took to build it. From the beginning, Aston Martin was destined to become the world's greatest marquee. Even at the expense of it many many owners. It indeed had a soul of it's own.
During WW II Aston Martin was assigned to making tooling and spare parts for aircraft joysticks. It was during these years that in the back corners of the works one of Aston's earliest stars, Claude Hill, continued work on a sports saloon - the Atom. It was the Atom that would spring board Aston Martin back to it's intended path.
In 1946 David Brown saw a small classified ad in the London Times offering Aston Martin for sale for only 30,000 pounds. He went over to Feltham to check the place out and drive the Atom. He fell in love with Atom and bought the company for the discounted price of on 20,500 pounds from the Sutherland family. Aston Martin now had the leader it needed to become what it was meant to be. Mr. Brown's core business was tractor parts. Specifically gears and transmissions. At first he did little with Aston Martin as his attention was devoted to finishing a new gear design. However, a friend of his convinced him to buy another automotive company, Lagonda, and merge it together with Aston Martin. After some shrud positioning he acquired Lagonda for 52,500 pounds. Aston Martin Lagonda was born. Yes, now you know why this site's domain name is AML. In 1954 the company moved to its Newport Pagnell facilities.
With David Brown came the "DB" vehicles. First there was the Aston Martin 2-litre, later called the DB1, built between 1948 and 1950. In 1950 the DB2s started to roll out of the plant followed by "DB"'s up till the DBS V8 built from 1967 to 1972. For more information on each model built please see our Gallery section. Unfortunately, the company, which had always just squeaked by, could no longer go in alone. In 1972 Mr. Brown sold the company to Company Developments Ltd. Company Developments was a second string asset stripper - remember that crazy in the 80's (see Pretty Women, Other Peoples Money, and Wallstreet, for a refresher). Things did not look good. But before they could rip the company apart two American enthusiasts, Peter Sprague and George Minden, bought the company. They focused on the product. Streamlining operations and improving quality. By 1981 things had greatly improved at Aston Martin but the American's couldn't keep it going and sold the company to CH Industrial. Who then sold it to Automotive Investments in 1983. They lasted just a year before selling the company to Peter Livanos and Victor Gauntlett. Could you imagine working at this place! You would never know how the boss was. Then in 1986 Ford bought 75% of the the company and the future of Aston Martin started to look a bit more promising.
In 1993 Ford finally bought the rest of the company from Victo Gauntlett and took over complete control of the operations. Ford invested heavily into modernizing the plants and focusing on innovative designs and technologies. For a company that averaged only a few hundred examples a year started to produce hundred then thousands of autos under Ford's leadership. In 2002 the company produced 6000 DB7's. More than all of the previous "DB"s ever built.
The future of Aston Martin looks very good. Ford has positioned the company as a innovative leader in top of the line exotics and the racing circuit. As long as there is a strong Ford and a strong demand for astronomically expensive super cars there will be an Aston Martin - and, from what we have seen from it's history, we will continue to see Aston's even when Ford sells her and the market takes the inevitable downturn.
aston martin logos pictures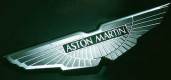 aston martin logo icon

aston martin logo wallpaper