car company
AUDI
audi car logo history
The four rings of Audi represent the four companies of the Auto-Union consortium of 1932 - DKW, Horch, Wanderer, and Audi. After the war the Audi name - which is Latin for "Hear!" - disappeared, but was revived in 1965, using the four rings as a logo. Also, the name is sort of a pun on 'hoerch', German for 'hear', name of one of the founders.
audi history
A. Horch & Cie (later to be known as Audi) was established in the Ehrenfeld district of Cologne in 1899. August Horch church established the company and by the beginning of 1901 the first Audi car was completed.
The first Horch hit the road in 1901, its engine was referred to as an "impact-free" engine. The new feature on the car (an alloy crankcase) was a pioneering achievement in car manufacturing.
In 1909 August Horch got into a dispute with the supervisory board of A. Horch and Cie. Motorwagen-Werke AG. Horch left the company he had set up. In July the same year he set up a 2nd company in the same city. Horch lost the legal dispute over the company name, however a solution was found: the Latin translation of his name. The new company name, Audiwerke GmbH became affective on 25 April 1910. 1914 was a significant for Audi and showed the performance abilities of there cars as Audi racers won the International Austrian Alpine Run in 1911, 1912 and 1913.
audi logos pictures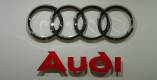 audi logo icon
audi logo wallpaper